This post brought to you by Bakery Crafts. All opinions are 100% mine.
.
I have never bought a store-made birthday cake before. 
It's not because I didn't like them. In fact, we've noticed some really cute ones when shopping for groceries.
And it's not the price. By the time I pay for ingredients and take the time to bake and decorate a cake big enough to serve at a party, the price difference is minimal.
I've never bought a store-made birthday cake before because I never have my act together in time. I figured I'd need to order the cake and give the specifics for it days ahead of time, but with the hectic party planning and gift buying, I always seem to forget that part.
And I wait until the last minute.
As it turns out, that's enough time to order one of those super cute birthday cakes I'd seen in the stores!
This year, we decided to order a Batman cake for my son. He's a huge Batman fan and wants everything Batman right now.
I called the Walmart Deli and Bakery to see how long it would take to get our cake made. It was December 23rd, so I knew they were slammed with holiday desserts, party trays and orders.
The nice lady told me to give her an hour or two (two would be better) and she'd have the cake ready for me. She needed my cake flavor choice – vanilla. And she wanted to know which icing color scheme we liked – dark blue.
We headed up 2 hours later and it was ready. And it was exactly what we wanted: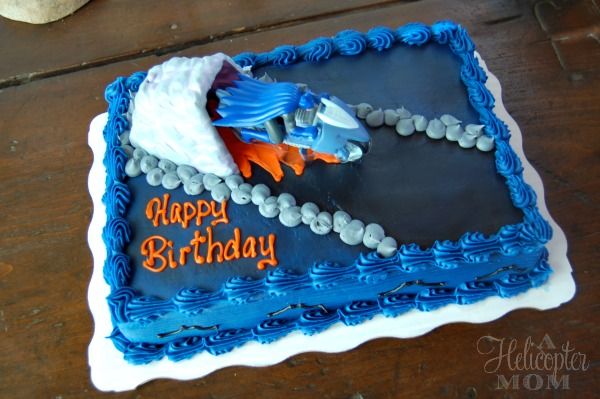 It was adorable!
She got the decorations, the colors and the cake exactly like we wanted.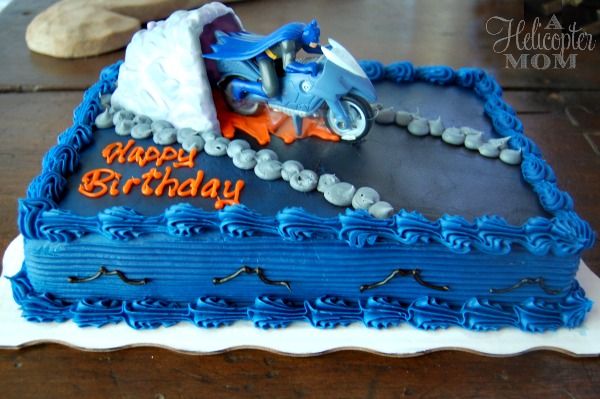 I kept the cake hidden from my son until we brought it out at his party. 
Instead of caring about everyone singing and letting him make a wish, all he wanted was to take the Batman toys off the cake to play with them.
The Batman, motorcycle and cave are all a really nice size and perfect for playing with long after the party is over.
We did make my son wait until after the song was over and candles were blown out, but then let him play with the Batman while he ate his cake. He was thrilled!
If you have a little one with a birthday coming up, be sure to check out the Cake Kits from Bakery Crafts. There are lots of awesome licensed properties for kids like Sesame Street and Hello Kitty all the way up to cakes for not-so-little-kids like Duck Dynasty and Harley Davidson!
Like Bakery Crafts on Facebook to see the latest cake designs for your next party.
.
GIVEAWAY
.
One lucky A Helicopter Mom reader will win a $25 Gift Card to try a Bakery Crafts cake of their choice!
To enter, use the Rafflecopter Form below. Giveaway ends on January 14, 2014 at 11:59pm EST. Giveaway open to residents of the US.