This is a Sponsored post written by me on behalf of éclos Skin Care. All opinions are 100% mine.
The éclos skincare line contains Apple Stem Cells that were extracted from rare Swiss apples which have shown an amazing ability to stimulate skin stem cells.  
That stimulation encourages skin to regenerate and behave like younger skin. Additional plant extracts, anti-oxidants and vitamins all work with the Stem Cell technology to help your skin look fresher and to minimize the appearance of fine lines and wrinkles.
Similar skincare lines were previously only sold by specialty brands in department stores at very expensive prices. The éclos brand is the first skincare line to make this active ingredient available to the mainstream consumer for just a fraction of the cost of other lines.  With éclos, beautiful and younger skin is now possible for women everywhere.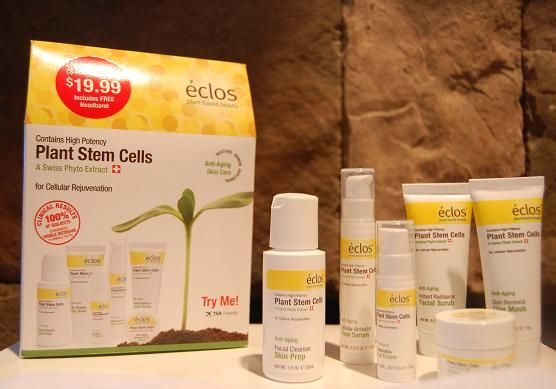 I was sent the éclos Anti-Aging Skin Care Starter Kit to try for a week.  It has sample sizes of all of the different items in the product line. The starter kit, valued at $19.99, contains each of the following items:
• Facial Cleanser Skin Prep
• Cellular Activator Face Serum
• Moisture Therapy Regenerative Cream
• Restorative Eye Cream
• Instant Radiance Facial Scrub
• Skin Renewal Clay Mask
• éclos Terry Cloth Head Band
I used the entire line of éclos for a little over a week and while I think it's a little soon to see huge results, I'm happy so far. My first thought in using the éclos Skin Care products was that I LOVE the scent. It's a light lemon verbena scent and it smells soooo good. I love the way my skin smells while I'm using éclos. And even though I don't always have great luck with skincare products because some are too greasy, some are too runny, some burn my skin, etc, I've been very pleased so far. With éclos, I haven't had any skin reaction, even in the more sensitive skin areas and my entire face is softer.
Here are my before and after photos from Week One:
Although I haven't seen a noticable reduction in fine wrinkles in just a week, I can already tell that the éclos has made my skin softer and more moisturized. I'm looking forward to seeing just what the Apple Stem Cells can do for my skin with longer use!
GIVEAWAY
I'm excited to be able to share the same éclos Anti-Aging Skin Care Starter Kit with one of you!  
To enter, just leave a comment below this post stating which product in the kit you are most excited to try.
Good luck!