This is a Sponsored post written by me on behalf of Triad Retail Media. All opinions are 100% mine.
I'm horrible at laundry.
When I had only one baby, all of her little onesies were clean and folded neatly in her drawers.  All of her fancy clothes were gently washed and hung to dry.  Any stains that I found were quickly treated with stain-remover and washed according to the directions.
Fast forward 7 years.  I now have three kids.  Clothes are very rarely folded and in the drawer, but instead can be found on the stairs, in various laundry baskets and hampers and sometimes even on the floor of the kids' rooms.  And stains, unfortunately, aren't noticed and treated until days have gone by.  On most laundry days, I spray stains, throw all of the kids' clothes together into the washer and then dry them. No special treatment – I just don't have the time.
So my stain-remover has to work.  No matter when I'm actually supposed to treat the stains, I need it to work after the stain has been set for days.
And Shout® Trigger does that.  I have been using it for a few weeks now and haven't had a stain that didn't come out. I've washed various food stains, mud and dirt stains, and even some really bad months-old set in stains on an old crib sheet I forgot about. All of the stains came out.
Check out these before and after photos of some of my worst stains: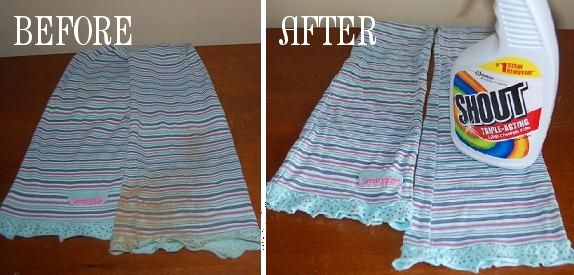 Shout® Trigger's triple-acting formula is made to cling to the stain and then uses enzymes and other stain-fighting ingredients to break up the stain and remove it. It's got a trigger dispenser, so it's easy to spray across large areas (like my sheet in the pic below) or to concentrate on a smaller stain.  Shout® Trigger works in all water temperatures and is safe for all colorfast washables.
Find Shout® Trigger at Walmart and try it on your tough stains!