This post brought to you by Comfort and Harmony. All opinions are 100% mine.
If you're a mom, you know that there are a lot of baby products out there. I couldn't even count how many different baby products I bought that I never used with my kids. Or some products that worked with one baby, but not with the others.
One product that I used daily (sometimes hourly) with all three kids was a nursing pillow. Whether it was for nursing, laying the baby against or propping the baby up a little with for tummy time, a nursing pillow was a must-have.
Between my first and third babies, nursing pillows came a long way! The flat, uncomfortable pillow moms used to use has been replaced by the Mombo™.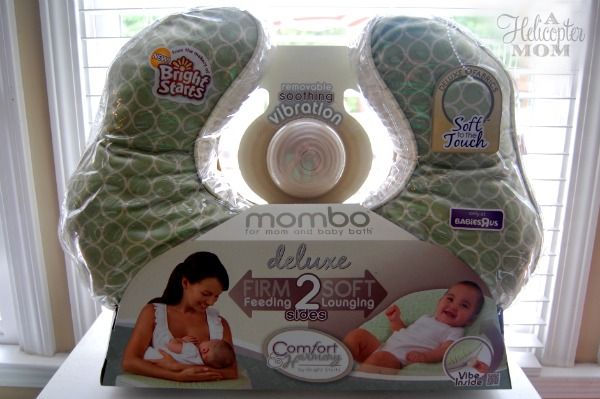 Mombo™ is the ultimate in pillows for nursing and for so much more. With a unique shape and two-sided design (Firm2Soft™), Mombo™ makes using a nursing pillow easier and much more comfortable.
The firm side of Mombo™ gives great support for the mom and nursing baby. And the soft side is perfect for tummy time or lounging, with it's super cozy and soft material.
Mombo™ is the only nursing pillow to have vibration! With its vibrating unit, Mombo™ comforts and soothes baby like no other pillow. And since the vibration unit is removeable, I can easily change batteries when I need to.
Mombo™ has a great selection of pillow styles and slipcover prints. The covers are removeable and washable so with just 2 covers, I can always have an adorable, cozy pillow, even while one cover is washing. The super soft green print on our Deluxe Mombo is perfect for us – it's nice looking, cute for boy or girl (in case we have more babies) and is top quality. And it's super comfy for baby and for Mom.
Be sure to check out the other great mombo™ products available and see how your baby likes them! Mombo™ products are available at Toys R Us and some Babies R Us stores.
Like Comfort & Harmony on Facebook and Comfort & Harmony on Twitter for the latest updates on Mombo™ products and news!
GIVEAWAY
One lucky A Helicopter Mom reader will win a Mombo™ Deluxe Nursing Pillow!
To enter, use the Rafflecopter form below. Giveaway open to residents of the U.S., 18 years of age and older.